Corona crisis: This app calms down unsettled employees
Instead of working door-to-door as usual, employees are tied to short-time work or home office due to the current situation – a major challenge for internal corporate communication and a breeding ground for uncertainty and fear. More and more employers are therefore relying on a special employee app to stay connected to the entire workforce and to take away people's concerns.
From one day to the next, everything was different. Instead of relaxing at the coffee machine for an informal exchange of information, we juggle video conferences, phone calls, the preparation of lunch and the children's school assignments. In between, we are constantly confronted with new Job messages, worries and fears spread. In addition to the fear of health, economic existence is also a major issue in view of the often prescribed short-time work: "How will it continue, will I keep my job, what does the crisis mean for my employer?"
Connected via smartphone app
This makes it all the more important for all employers to communicate constantly with all people in the company. But how can this rapid crisis communication be achieved, especially if, for example, employees do not have access to a computer? "We are constantly carrying the answer to this question with us," says Thomas Mörth, Managing Director of the Graz-based software company cycoders, referring to the smartphone. His company has developed the employee app LOLYO, which is simply installed on the mobile phone and then connects all employees directly from production to field service to the administrative back office.
A must in times of crisis
The information within LOLYO is transmitted via social posts and chats, which are similar to communication in social media and are therefore very familiar to us. With the help of push messages, important news can be transmitted very quickly, by means of read receipts you know that everyone has also read the information. This enables constant contact and exchange between companies and employees, an absolute must in times of crisis. Big advantage of LOLYO compared to the competition: The employee app can be booked online at any time, you can start with it immediately, while it can take up to three days elsewhere.
95% of employees actively use the app
Many companies are already taking advantage of the advantages of internal communication with LOLYO and the current Corona crisis has caused a huge number of customers. Globally active industrial companies are part of this, as well as large retail chains, hospitals and also tourism companies. The feedback from users is more than positive and the employee participation in the companies is also extremely high: "Up to 95% of the app has been downloaded to the smartphone and are actively involved!", says Thomas Mörth.
Digital Team Austria: LOLYO free for SMEs until 30 June
Incidentally, there is particularly good news for Austrian small and medium-sized enterprises: as a member of the Digital Team Austria, the initiative of Federal Minister Margarete Schramböck, LOLYO supports Austrian SMEs during the Corona crisis. What are the benefits for domestic companies? LOLYO is available in the cloud version for SMEs June 30, 2020 when used for up to 100 employees completely free of charge and without binding. All information also on the website of the Federal Ministry USP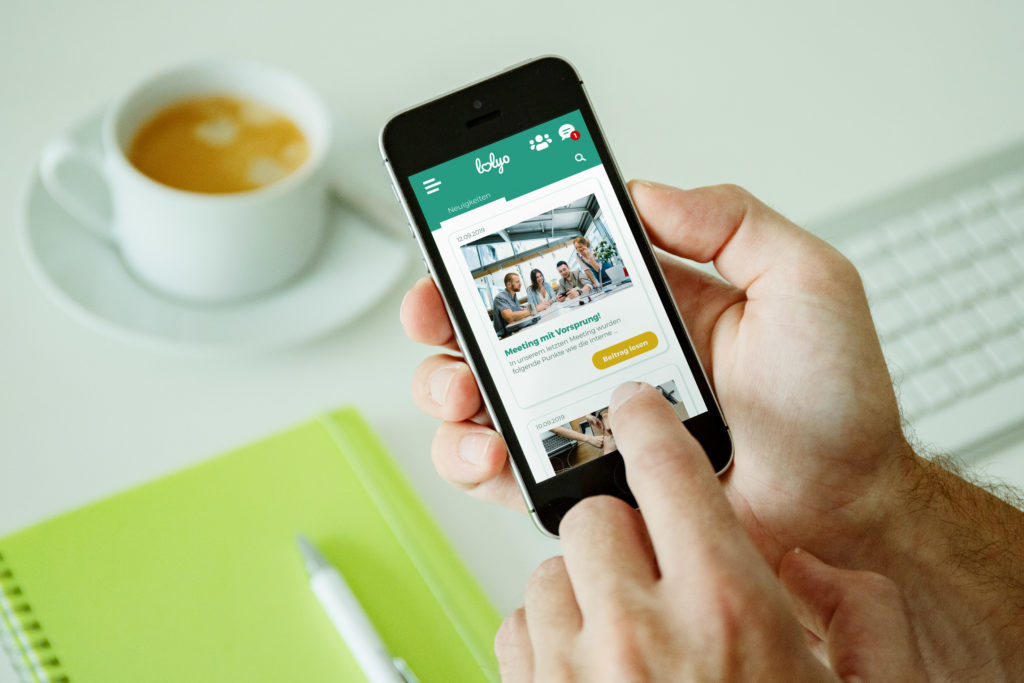 About the LOLYO Employee App
Developed in 2018 by the Graz-based software company cycoders, LOLYO as a mobile intranet connects all employees quickly and easily via smartphone. LOLYO's enthusiastic customers include leading companies and brands such as Salamander/Delka, Stölzle Oberglas, Liebherr, Snow Space Salzburg, Schmidt Reinigung, Hospitals of the Merciful Brothers, maltech and many more.
Question note:
Thomas Mörth
cycoders Ltd.
Park ring 2
8074 Graz-Grambach
Austria
E: moerth@cycoders.at
W: www.cycoders.at
T: +43 316 405 28713