With an app to combat the shortage of skilled workers
With the new employee app called Lolyo, the Graz-based software company Cycoders is launching a social intranet that connects all employees in a company via smartphone and helps to attract new specialists.
What to do when the order books are full but there are fewer and fewer suitable skilled workers in the free labour market? As a rule, people are desperately trying to compensate for this shortage with foreign or expensively recruited workers. Or you can invest more in employer branding in order to score as an employer with the few, still vacant specialists on the market with attractiveness. However, these countermeasures are only briefly successful if there is a lack of communication with their own employees in the companies themselves and the motivation and ultimately the loyalty to the employer suffer from this. However, whether an employer is attractive to skilled personnel also depends on the satisfaction and motivation of the existing employees – because they are important opinion-formers in their environment. In addition, motivated employees also contribute to the faster filling of vacancies via personal recommendations.
An app that connects all employees
If a vibrant and motivating corporate culture is to be created, there must be a lively exchange of information. However, this presupposes that everyone in the company, whether in production, in the field or in the office, is also given the opportunity to participate in internal communication. This is exactly where the employee app Lolyo starts, because every Austrian now has a smartphone. The app offers all users a familiar social media environment and an extensive messenger. With this social intranet, company information is conveyed very easily and the contact among the employees is intensified. "The exchange of knowledge in the company thus works much faster and easier. The company's knowledge is networked and is directly accessible to everyone," says Cycoders Managing Director Thomas Mörth.
Employees recruit employees
Often the solution is closer than you think. When looking for suitable specialists, you should therefore start with your own employees. The Lolyo employee app integrates an "employee advertising employee program" so that every person in the company can easily recommend a vacancy in their own social environment. Interested parties can apply directly for this job advertisement and the recommended persons receive a "thank you" from the employer. "Employee recommendations make vacancies faster and easier to fill, and a new specialist hired by a personal recommendation is proven to be more performant," adds Martin Gueß, technical director of THE COMPANY.
Reersed participation through a motivational system
Although the app offers many benefits to all employees, it is still a big step for some to download the app to their own smartphone. To increase the incentive to participate, the app includes a motivation system that "rewards" users for participating themselves, but especially for the activity on this social intranet. It is built on the principle of reciprocity, which is deeply rooted in our social society. For example, employees receive points for commenting on posts, for participating in surveys or for recommending vacancies, which in turn can be redeemed against goodies.
Stölzle Oberglas successful with the Lolyo employee app
The glass producer Stölzle Oberglas, headquartered in Köflach in Styria, is already using the Lolyo employee app very successfully. "The app has created an inspiring platform for our nearly 450 employees in Köflach. In the first 4 weeks, almost 50% of the workforce downloaded the app to their smartphone. During this period, around 94 posts were published, 2,498 comments were written and about 4,713 employees clicked "likes" about 4,713 times," says Ms. Mag, the Stölzle PR director. Doris Marka her experience with the app. Lolyo we are currently introduced throughout the Stölzle Group due to its success. The app will then be available to all around 2,500 employees in Austria, Poland, France and England.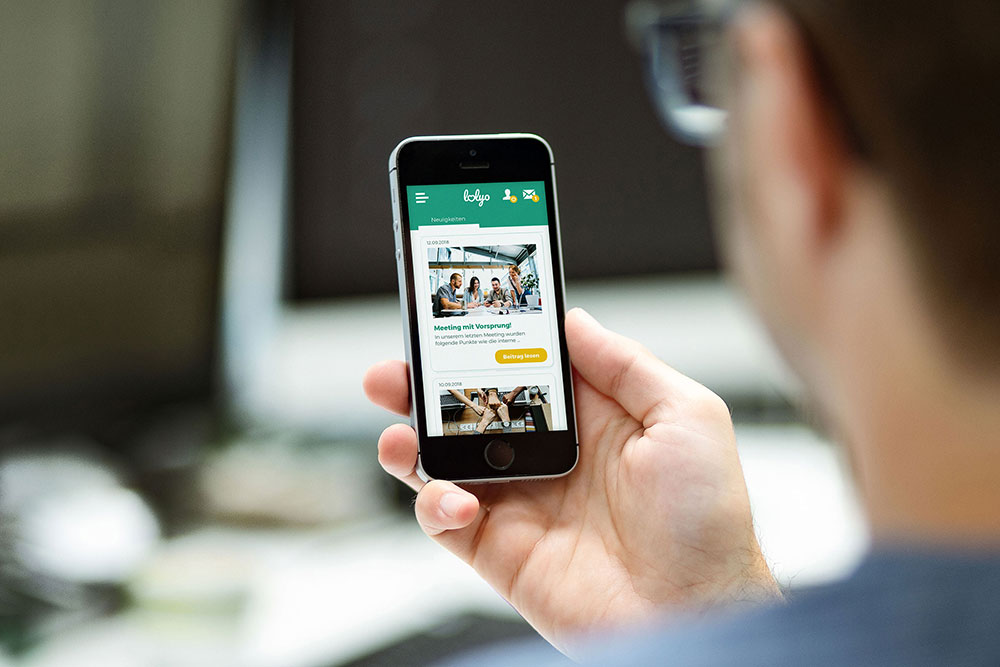 About cycoders:
The company cycoders was founded in 2018 by DI(FH) Martin Gueß and Thomas Mörth in Graz. The software company focuses on the development of smart software solutions that are intended to simplify processes and support people in everyday life. Two of cycoders' core products are LOLYO, an innovative corporate social intranet solution, and Conrox, a KNX visualization for the smart home. The founders know each other from a long-standing cooperation in various marketing agencies and have in the past implemented together some outstanding projects in the field of marketing automation and customer loyalty.
Question note:
Thomas Mörth
cycoders Ltd.
Park ring 2
8074 Graz-Grambach
E: moerth@cycoders.at
W: www.cycoders.at
T: +43 316 405 28713